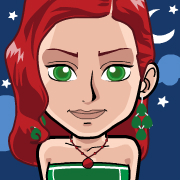 "It's not like you're going anywhere in your puny little life anyways."
-Wendy to Kuki.
Wendy Xi (pronounced "shi") Chang is an egocentric girl. She is the ringleader of the Glam Clan. She is also a first-generation American.
Wendy Xi Chang

Family

Mingli Chang: Father. Josephine Stomphim-Chang: Mother. Ariel Stomphim: Cousin. Jackson Stomphim: Maternal Uncle. Allison Waters-Stomphim: Maternal Aunt.

Hair style

long, curly red hair

Eyes

Viper green

Status

Mean Girl. Ringleader of The Glam Clan

Loyalties

The Glam Clan, Family, Cheer Squad

Enemies

Black Soul, Ex-Boyfriends,
Relationships
Edit
The two are cousins and grew up together. She let her join The Glam Clan in hopes that she can change Ariel's physical appearance. Wendy even went as far as to rig the Cheer tryouts with Aby to make sure Ariel made the team.
The two are close and have been friends since the second grade. The two are co-captains of the Cheer Squad and share the top of the pyramid.
Lily and Wendy have been friends since the second grade. Wendy is one of the few people who know Lily's real name.
Wendy and Stephane have been friends since the second grade. Stephane was able to convince Wendy to let her cousin, Molly, become an honorary member of The Glam Clan.
Wendy let Molly become part of The Glam Clan when Stephane asked her to. Wendy took an even bigger interest in Molly when she realized that she was Black Soul's biggest fan. Wendy often asks Molly constantly about info of the band in hopes to get good material for when she trashes them. Despite hating Black Soul (though it's really Kuki she can't stand) Wendy helps Molly by giving her advise on how to woo Hoagie.
The girls' rivalry goes way back to elementary school. No one really knows what caused the fight only that chocolate milk, gummy bears, a rainbow monkey, and bubble wrap was involved. The two are constantly having fights and someone from their group always has to take them away before things would escalate into a full blown out fight. A fight did occur once and both girls got detention with a teacher.
Wendy's hatred for Black Soul has leaked off from her hatred to Kuki Sanban. Another reason she could hate them so much is that they are constatly getting more attention than her.
In some stories, the two are dating. This in turn makes Kuki mad, which is just what Wendy wants. Though Wally only dated Wendy to make Kuki jealous.
Jack is one of Wendy's boyfriends. He is the only one to have succeed and they end up getting married.
Appearance
Edit
Wendy has curly red hair and green eyes. She has to wear glasses but she prefers to wear her contacts.
Ad blocker interference detected!
Wikia is a free-to-use site that makes money from advertising. We have a modified experience for viewers using ad blockers

Wikia is not accessible if you've made further modifications. Remove the custom ad blocker rule(s) and the page will load as expected.