"Tell me... do you like dreams?"
- Sandman.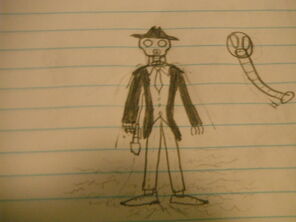 Sandman
is a member of the
Delightful Children
in the
Out of Mind
universe.
Before joining the Delightful Children, Sandman was known as "Locksmith". Locksmith, along with his friend Deshon, planned a rebellion against the Kids New Dictatorship after they took over his school in Oregon. They day before the rebellion, a mole in their rebel cell let the KND in on their operation and quickly took Locksmith and the others into custody.
The KND singled Locksmith and Deshon out as the leaders of the rebels and stuck them in a box for a month, without food or water. Deshon later died in the box. Locksmith barely survived the month before the KND let him out, back into working in the broccoli mines. Sandman first appeared in the story "Sand", where he liberated his school from the Kids New Dictatorship. He later met Bruce Uno and joined the Delightful Children on the condition that they give him a coffee machine. Sandman later appears in 'Introductions' where he takes offense to one of Amber's comments and proceeds to scare her.
Sandman was set to reappear in "Out of Mind" along with the rest of the Delightful Children task force. Sandman is given the task by Bruce Uno to find out if there is traitor in their midst.
Before its discontinuation, Sandman would be the prime suspect of who the traitor was. Being imprisoned by David. Sandman would then die protecting the Delightful Children HQ from Sector V.
Abilities
Edit
Sandman utilizes a gas gun in combat that shoots knock out gas. He also has a wirepoon grapling gun. Aside from his weapons, Sandman wears a SchMs gas mask, black coat, black fedora, and a three piece business suit after joining the Delightful Children. Sandman, just like Wesley Dodds, has prophetic dreams. Sandman is also an experienced lock picker.
Due to his lack of sleep and trauma at the hands of the Kids New Dictatorship, Sandman's sanity has been called into question by several Delightful Children. He also has a fear of sleeping due to his prophetic dreams and drinks mass amounts of coffee to stay awake.
Sandman is the Out of Mind version of an already existing OC.
Sandman's theme song is "Written in the stars" by Tinnie Tempah.
Ad blocker interference detected!
Wikia is a free-to-use site that makes money from advertising. We have a modified experience for viewers using ad blockers

Wikia is not accessible if you've made further modifications. Remove the custom ad blocker rule(s) and the page will load as expected.