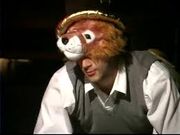 "He's nothing like Rumbleroar."
~Draco about Rumbleroar in comparison to Dumbledore.
Rumbleroar (originally from A Very Potter Musical) is the Headmaster of Pigfarts School of Witchcraft and Wizardry located on Mars.
He will make an appearance in
A Very KND Musical
.
Appearance
Edit
Rumbleroar is a fully grown lion that can talk.
Personality
Edit
Not much is known about his personality. But if you are a good student, he lets you ride on his back.
Ad blocker interference detected!
Wikia is a free-to-use site that makes money from advertising. We have a modified experience for viewers using ad blockers

Wikia is not accessible if you've made further modifications. Remove the custom ad blocker rule(s) and the page will load as expected.