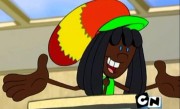 Numbuh 1-Love
is the leader of the Jamaican
Kids Next Door
,
Sector J
. He first appeared in
Operation: H.O.L.I.D.A.Y.
as the overseer of the other operatives' comfort while they stayed in their tree house. It is known that there are 365 feet of waterslides, about 50 pools, an endless supply of mango smoothies, and wonderful weather - these statistics make Sector J the ideal vacation spot for the
KND
.
Later, in Operation: I.T., he is seen about to be tagged by Numbuh 44, but threatens him with a S.P.L.A.N.K.E.R. and ends up not being tagged. He also made a brief appearance in Operation: I.N.T.E.R.V.I.E.W.S. , where his sector had caught the Wedgiesaurus Rex.
Ad blocker interference detected!
Wikia is a free-to-use site that makes money from advertising. We have a modified experience for viewers using ad blockers

Wikia is not accessible if you've made further modifications. Remove the custom ad blocker rule(s) and the page will load as expected.