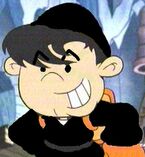 "I'm... I... didn't mean to, sir!"
~NottaP to his boss at the Artic imprisonment of the Positives.

NottaP YksvolirD is Negative Numbuh 60. He is a coward in nice words. No one respects him and believes he will amount to nothing. After a while, he begins to believe it himself.
He works at the Artic Imprisonment of the Positives. He basically runs the place because the head is always away. Making sure that the Positives are locked away during the Negative Vs. Positive War is his main priority.
Ad blocker interference detected!
Wikia is a free-to-use site that makes money from advertising. We have a modified experience for viewers using ad blockers

Wikia is not accessible if you've made further modifications. Remove the custom ad blocker rule(s) and the page will load as expected.