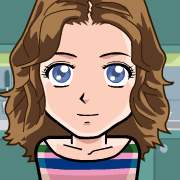 "Muffy... how many expressos have you had today?"
~Jess to Muffy in the one-shot Mocha Lips.
Muffy Baker is Numbuh 350 (pronounced 3 hundred and 50) Degrees.
Muffy works at Moonbase at Moondollars with her younger sister, Ginger.
Muffy is the co-head of Moondollars with her sister, Ginger. She was originally the head but Rachel made her share her position with Ginger because of her expressoo addiction.
Creation of her expresso addiction
Edit
While writing the story Mocha Lips, Morgan was having trouble figuring out Muffy's personality. A conversation with April, who had gone to the mall with Ingrind, who was high on expressos, gave her the idea
Relationships
Edit
Ginger is Muffy's younger sister by two years. The two sisters are close. Ginger works at Moondollars with Muffy.
Jess and Muffy are cousins. Jess is constantly trying to help Muffy with her expresso addiction.
Appearance
Edit
Muffy has curly, chocolate brown hair and her eyes are the shade of freshly ripped blue berries. She wears a multi-shade pink shirt and blue jeans.
Personality
Edit
Muffy is a hyper-active, ADHD girl. She is constantly bouncing off the walls and usually has to be tied to a chair. She has an unhealthy obsession with espressos.
Ad blocker interference detected!
Wikia is a free-to-use site that makes money from advertising. We have a modified experience for viewers using ad blockers

Wikia is not accessible if you've made further modifications. Remove the custom ad blocker rule(s) and the page will load as expected.