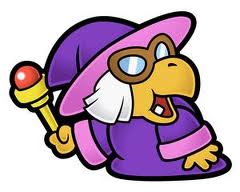 Kammy Koopa
(originally from
Paper Mario
) is an old witch hag that serves as
Bowser
's advisor.
Firstborn Saga
Edit
She went with him, alongside Bowser Jr., on his mission to turn Fanny to evil in Attitude Adjustment, and avoided being crushed by the Giantess Fanny, unlike Bowser. She later fought Dr. Facilier in the final fight of the story.
In Legend of the Eight Firstborn, Kammy uses her magic to assist the Koopalings during their boss fights. She also helped Bowser Jr. by turning him into a giant when he fought Shaunie Fulbright in the Airship Armada. When Bowser fought Shaunie and the others at Koopa Kore, Kammy created a machine that could enhance Bowser's powers. When Bowser ended up fusing with the other Koopalings, Kammy retreated.
Appearance
Edit
Kammy wears a purple robe and purple witch hat. She has yellow skin, white hair, and wears slanted glasses. She is an old woman about as tall as Bowser Jr.'s height.
Personality
Edit
Kammy is a devious old woman, but at times, she just likes to have fun. She often annoys Bowser with her occasional carefree spirit, and she also gets annoyed during his rageful outbursts. She is also shown to be a bit of a coward, sometimes not willing to fight the Kids Next Door herself.
Kammy is a witch at decent skill, who mostly uses her magic to increase the strength of the Koopalings or Bowser, and sometimes uses basic magic blasts to attack. She mostly flies around on a broomstick.
Similar to Mallah in Brain's team, Kammy is the only of Bowser's henchmen that wasn't a boss.