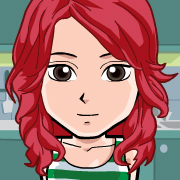 "How could you have drank three expressos in the five minutes I was gone!?"
~Ginger to Muffy in the one-shot Mocha Lips.

Ginger Baker is Numbuh 375 (pronounced 3 hundred and 75) Degrees. Ginger works at Moonbase at Moondollars with her sister, Muffy.
Appearance
Edit
Ginger has curly, raspberry hair and midnight truffle eyes. She wears a green tanktop and blue jeans.
Personality
Edit
Ginger is the more level headed of the Baker girls. Ginger has to make sure that Muffy keeps her expresso addiction in check.
Ad blocker interference detected!
Wikia is a free-to-use site that makes money from advertising. We have a modified experience for viewers using ad blockers

Wikia is not accessible if you've made further modifications. Remove the custom ad blocker rule(s) and the page will load as expected.