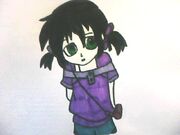 Faith Ruby
is the daughter of Antonette Conerhan. She was born on March 13, 2042. She has the last name Utsukushii because Buddy adopted her to make Antonette's life easier. Although, for some time, she protested.
Her older brother, Sebastian, helped her accomplish her ambition to be a movie star. She appeared in the movie Cards. She gained a bigger roll in Sidetracked and the My Angel series with Edward Pattinson. They had an on and off relationship and they finally got married. Together they have 19 kids (and counting), ten are theirs and nine were adopted.
Faith got her first acting job in her Uncle Sebastian's TV Show 'What I Hate About You.' She played his two year old daughter, Anabeth Marie White. Five seasons later, the show ended and Faith got another job as an orphaned girl who was sent from family to family trying to find her way to the perfect family. The show ultimatly failed and was cancelled a season later.
She then played in several Lifetime movies and became one of the richest children in the world.
At the age of sixteen, Faith co-stared with her friend, Amelia Brockstor, in "All You Need is Faith and Hope", where they played twins who lived in a boarding house with fifteen other families. The series lasted until she was nineteen and had four seasons.
She also played in many movies with her future husband, Edward Pattinson.
Appearance
Edit
Faith has waist length, black hair that is usually up in two pigtails and green eyes.
Ad blocker interference detected!
Wikia is a free-to-use site that makes money from advertising. We have a modified experience for viewers using ad blockers

Wikia is not accessible if you've made further modifications. Remove the custom ad blocker rule(s) and the page will load as expected.