Numbuh 78
, or
Angelie
, is the leader of
Sector X
who first appeared in Operation: U.N.C.O.O.L.. Numbuh 78 also was in
Operation: Z.E.R.O.
, shown at the beginning fighting Candy Pirates and in the middle as a Senior Citi-zombie. She appears briefly in several other episodes such as Operation: C.A.N.Y.O.N., Operation: H.O.L.I.D.A.Y., Operation: I.T., and Operation: T.R.E.A.T.Y.. She is voiced by Lauren Tom.
Numbuh 78 (Angelie)

Family:

Mike Strongarm (son), Nathaniel (dad)

Gender:

Female

Friends:

Numbuh 34, Numbuh 42, Lance

Enemies:

Nerd Zombies

Crush:

Homeland:

Lousiana

Status:

Active

Position:

Leader of Sector X

Good or Bad?

Good

Hair and eye color:

Black hair, unknown eye color.
Her name is Angelie Lemange, and she is a skilled biker, as shown in the one-shot "Biking", and also has a crush on Lance Strongarm. In Operation: ANCESTOR, she and Lance defeated Phineas and Herculi.
In the future, she is married to Lance Strongarm, and has a son named
Mike
.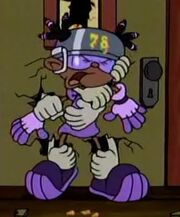 Ad blocker interference detected!
Wikia is a free-to-use site that makes money from advertising. We have a modified experience for viewers using ad blockers

Wikia is not accessible if you've made further modifications. Remove the custom ad blocker rule(s) and the page will load as expected.